Latham, Illinois Fire Protection District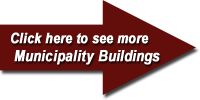 The importance of our local fire truck & ambulance facility, city hall, township building, or park pavilion cannot be underestimated.
At Graber Buildings, we realize that costs and time are essential elements in working with a public project. We also understand the durability and appearance that is required to achieve many years of maintenance free usage and appeal.
We work with trusted architects to ensure that quality construction takes place within the various governmental codes and specifications.
Let us help you get the most for the public's tax dollars with a long-lasting Graber Building.